Residents who live in these 25 growing towns see their incomes go the furthest.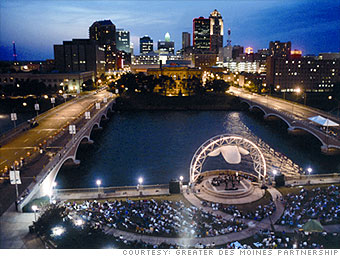 Median home price: $100,000
Median family income (per year): $60,900
This mature Midwestern city was once a cultural backwater dominated by blue-collar values and bourgeois boosterism. It has morphed into a white-collar city that takes a star turn every four years as home to the first state caucus during the presidential election season.
The housing bubble was just a rumor here in the Iowa state capital. Prices never rose more than a few percent a year. That spared the town from the worst of the bust while keeping prices very affordable.
See complete data and interactive map for Des Moines
NEXT: Cedar Rapids, IA
Last updated July 13 2010: 5:16 PM ET