Residents who live in these 25 growing towns see their incomes go the furthest.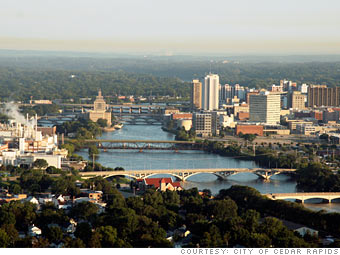 Median home price: $120,500
Median family income (per year): $71,466
Old Cedar Rapids once resembled the Iowa depicted in "The Music Man," but today the city is more ethnically diverse and culturally vibrant. While holding true to its agricultural roots, the city also hosts museums and an important theater scene.
Floods in 2008 devastated the Cedar Rapids and 300 homes were lost. Despite that, the housing market has remained on an even keel. Prices are still affordable for families.
See complete data and interactive map for Cedar Rapids
NEXT: Spring Valley, NV
Last updated July 13 2010: 5:16 PM ET