Residents who live in these 25 growing towns see their incomes go the furthest.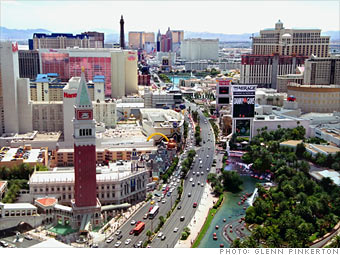 Median home price: $135,000
Median family income (per year): $77,244
Housing subdivisions and strip malls mark the cityscape of Spring Valley, which lies slightly to the west of the Las Vegas strip, practically in the shadows of the great casino hotels. Its growth, mirroring that of the city itself, has been explosive, with the population more than doubling between 1990 and 2000.
Foreclosures have devastated the Las Vegas area, and Spring Valley has not escaped the scourge. Vacancies blanket the boulevards here, and prices have dropped accordingly. There are numerous recently built, three-bedroom homes available for $150,000 or less, and condos can be had for a lounge singer's song. In fact, $30,000 for a three bedroom is not unusual.
See complete data and interactive map for Spring Valley
NEXT: Warner Robins, GA
Last updated July 13 2010: 5:16 PM ET