Residents who live in these 25 growing towns see their incomes go the furthest.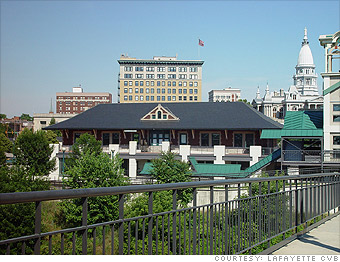 Median home price: $82,210
Median family income (per year): $60,643
The Midwest is tops for getting bang for your real estate buck, and Lafayette is no exception. Palatial estates can be had for under a million, and there's a wide choice of affordable family homes -- three-bedroom, two-bath houses in good neighborhoods -- for under $100,000.
The town's big draw is Purdue University. That means big-time college sports and a more fertile arts-and-culture scene than other similarly sized cities. It's also just an hour from the big city attractions of Indianapolis and a two-hour day trip to Chicago.
See complete data and interactive map for Lafayette

NEXT: San Antonio, TX

Last updated July 13 2010: 5:16 PM ET