Residents who live in these 25 growing towns see their incomes go the furthest.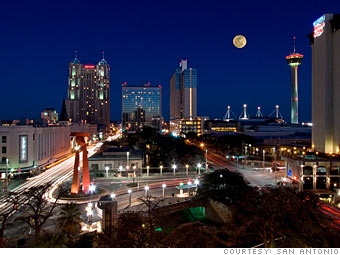 Median home price: $78,627
Median family income (per year): $55,958
The city of "Remember the Alamo" has made great strides in diversifying its economy. Key components of strength are now the tourism, bio-medical and financial services industries. In addition, it's a center of higher education and a major military center with 75,000 servicemen and women stationed in the city.
Jobs keep people coming to the city and a high quality of life encourages them to stay, said Mayor Julian Castro. Costs here are low and homebuyers can choose from a large stock of single-family properties at a median price of around $140,000.
See complete data and interactive map for San Antonio
NEXT: Deltona, FL
Last updated July 13 2010: 5:16 PM ET