Residents who live in these 25 growing towns see their incomes go the furthest.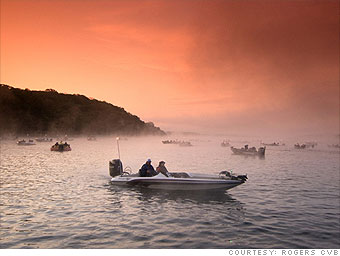 Median home price: $124,483
Median family income (per year): $59,658
In 1970, this little city is the northwest corner of Arkansas held but 11,000 residents. What could have propelled population growth to nearly 60,000 today? Hmm, the nearest neighbor is Bentonville. Anything there? Well the corporate headquarters for Wal-Mart, the world's biggest revenue-producing company. And Rogers is where the first Wal-Mart store was located.
The chain's success has trickled down to the communities around it, but it hasn't priced people out. The city has an inventory of many hundreds of homes for sale from million-dollar mansions to small places priced under $50,000.
See complete data and interactive map for Rogers
NEXT: Fargo, ND
Last updated July 13 2010: 5:16 PM ET