Bethesda, Md., residents pull in more than $170,000 a year. Which other places in our Best Places database have high incomes?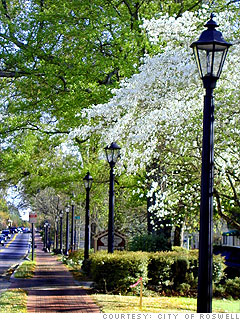 Population: 96,450
Median family income (per year): $113,750
Median home price: $246,720
Storytelling festivals, ghost tours and antique shops give this cultured Georgia town serious flavor. But inspired local cuisine like bread pudding made from Krispy Kreme donuts and drizzled with chocolate liqueur may take the cake.
It's upscale certainly, but discerning residents cite a richness of quality, character and history, not empty materialism. There's real depth in its efforts preserve folk music and stories and to give visual, literary and performing artists venues for their work. A stroll down Canton Street provides ample evidence that in Roswell, eclectic elegance is celebrated.

See complete data and interactive map for Roswell

NEXT: Wheaton, IL

Last updated July 14 2010: 11:43 AM ET