BP has already spent more than $1 billion battling its oil spill. Here's a look at where the cash is going.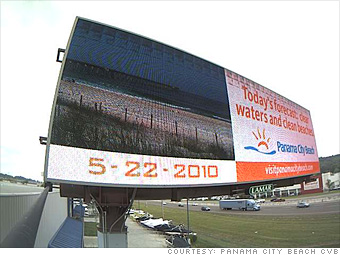 The Panama City Beach Convention and Visitors Bureau uses billboards to displays daily updates on the condition of its beaches.
Gulf states are doing all they can to bolster their tourism industries, which have been hammered by the oil spill -- and BP is footing the bill.
In Panama City, Fla., for example, the tourism development board is getting about $1.1 million from BP to spend on television and digital billboard advertising to assure the public that its local beaches remain pristine.
"The campaign's focus is on getting the word out that the Panama City beach hasn't been impacted by the oil spill, that our beaches are clean and the water is clear," said Dan Rowe, president and CEO of Panama City Beach Convention and Visitors Bureau.
Rowe said that the Bureau requested $2.2 million, but has so far received half. The remaining distribution hinges on the other clean-up needs of the state.
NEXT: Lost rental property income
Last updated June 11 2010: 7:35 AM ET