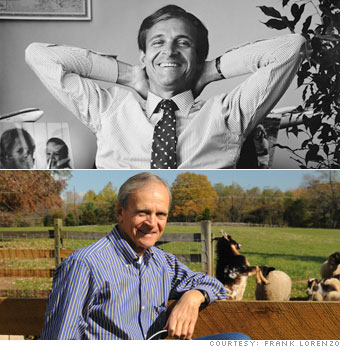 Then:
The airline CEO, reviled by unions for his aggressive cost-cutting, led Continental into bankruptcy in 1983, voiding its union contracts and giving it a fresh start. The 1989 bankruptcy of Eastern was more painful: a court replaced Lorenzo with a trustee and the airline was liquidated.
Now: "There is a difference between a tough boss and a tough job," he tells Fortune. "It was very painful to furlough people."
Today, at age 70, he runs Houston-based Savoy Capital, an early investor in Chinese food chain P.F. Chang's. He and his wife Sharon spend plenty of time in Spain, his parents' country of origin -- flying Continental, which Lorenzo calls "the best product in the sky."
Lorenzo is also active in the art world, serving as a trustee of the Hispanic Society of America, a Manhattan museum with works by Goya and Velázquez. "It's a long way from worrying about 50,000 employees," he says. "But it's the kind of stuff that's really fun in this second stage of my life."
By Ellen Florian
NEXT: Andy Bechtolsheim
Last updated October 28 2010: 8:20 AM ET