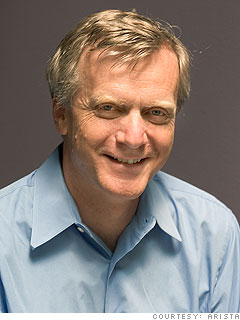 Then:
As a Stanford grad student, he built the workstation that would launch Sun Microsystems and followed that with two more tech startups, one that was sold to Cisco in 1996 and another to Sun in 2004. Along the way, he wrote a check for $100,000 to the Google founders, becoming their first investor.
Now: He won't slow down -- not even a bit. "Work is sheer stimulation," he says. "The idle lifestyle of the rich is just not for me."
Two years ago, he left Sun again for his current venture, Arista Networks, a company that provides low latency networking for cloud computing that has won more than 100 customers in the financial-services industry alone. "New ideas and innovation are ingrained in my psyche," says Bechtolsheim, 55. "What motivates me is using the latest technology to solve a problem in a better way than has been done before."
By Ellen Florian
NEXT: Andrew Sigler
Last updated October 28 2010: 8:20 AM ET