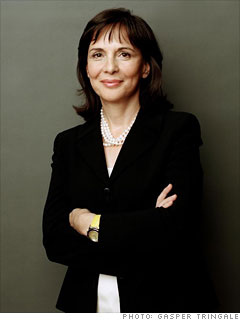 Then:
As co-president of Morgan Stanley from 2006 to 2007, she was regarded as one of the most powerful women on Wall Street and a potential CEO successor.
Now: Cruz took the fall after Morgan Stanley sustained a $4 billion trading loss on a bad mortgage bet. "I found it devastating," Cruz told Fortune. "I entertained the idea of going back to school and becoming an architect," she says. But recognizing where her skills lie -- in assessing investment risk around the world -- last year Cruz started started her own firm: Voras Capital Management, a hedge fund named after the mountainous region in Greece where she was born.
"We're operating profitably," says Cruz, now 55 and a mother of three. Her outlook on the markets? "Despite extreme volatility, I don't subscribe to the double-dip theory in the U.S. I'm optimistic."
By Patricia Sellers
NEXT: Ed de Castro
Last updated October 28 2010: 8:20 AM ET