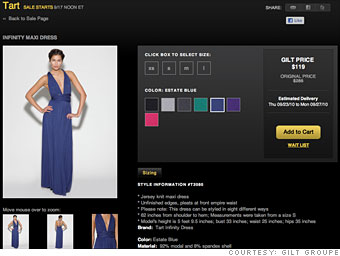 A Tart dress currently on sale on Gilt.
Who does it:
3 million members. Enrolling is free; CNNMoney readers can sign up at
www.gilt.com/cnnmoney
How it works: Most sales start at noon each day and feature designer apparel at 30% - 70% off the retail price. Sales last for 36 hours, but good deals go fast: Gilt says it typically sells 50% of its merchandise within the first hour.
Secret strategy: Gilt "groupies" start at the bottom of the page and scroll up to give themselves a few seconds lead time on the items listed last. Fans on Facebook can also preview the sales in advance -- but not even the CEO of the company, Susan Lyne, can purchase anything before noon.
What you can snag: Gilt is best know for its high-end fashion selections from designers such Vera Wang, Christian Lacroix, Carolina Herrera, Michael Kors and Jonathan Adler.
But Gilt's footprint is expanding, and stylist and personal shopper Lynne Curtis touts Gilt sibling Jetsetter as her go-to site for discounts on luxe travel deals. One caveat: "They charge your credit card once you make the reservation, so that's before you've even stayed there," Curtis warns. "That can be a pain."
Ultimate score: A Vera Wang dress in silk organza for $699 on Gilt, regularly $1,850.
NEXT: Rue La La
Last updated November 03 2010: 2:46 PM ET