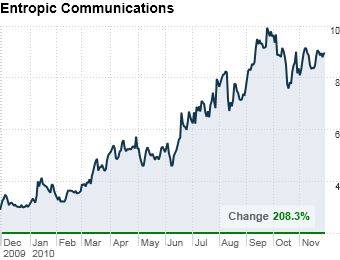 Market cap: $750 million
2009 Revenue: $116 million
P/E ratio: 11.7
Dividend yield: N.A.
Every stock portfolio needs one swing-for-the-fences bet on the latest gotta-have-it gadget or technology. San Diego-based Entropic is our pick. The company makes semiconductor chipsets that operate a home-networking system known as MoCa. That's the technology behind the multiroom DVR players -- marketed ad nauseam by DirecTV and Verizon FiOS -- that allow you to record a TV show in one room and then watch it in another.
DirecTV and FiOS already install MoCa in their new HD set-top boxes, and the three leading cable companies -- Comcast, Time Warner Cable, and Cox Communications -- have announced plans to add Entropic chipsets to theirs in 2011. If multiroom DVR capability does become standard on new HD set-top boxes -- and that's where the market seems headed -- the payoff for Entropic would be enormous. It currently controls 85% of the MoCa market. It can even afford to cede some share to Broadcom, as analysts anticipate it will, since the overall market for MoCa chipsets is expected to grow at a 35% to 40% annual rate over the next three years.
Chris Retzler, manager of the Needham Small Cap Growth Fund, sees another opportunity. He envisions a day in which Entropic chipsets are built into TVs, home stereos, game consoles, and Blu-ray players too, allowing for easy sharing of audio and video content across home networks. (In other words, if the kids are playing Wii downstairs on the TV that is connected to your Blu-ray player, you could still pop in a movie and watch it on the upstairs TV.) That could make Entropic a takeover target. "The opportunity for Entropic is enormous," says Retzler, whose fund owns 100,000 shares of Entropic.
Analysts expect 43% earnings growth from Entropic next year. Normally you'd have to pay a hefty premium for a tech stock with this kind of growth potential, but Entropic is priced more like a value stock: At $9 a share, it trades at 11.7 times projected 2011 earnings. Investors seem unduly alarmed by the competitive threat posed by Broadcom and perhaps by the jump in its stock price -- more than 200% this year. But we think it still has plenty of room to run.
NEXT: Apple
Last updated December 20 2010: 2:27 PM ET
All stock prices as of Nov. 30; price/earnings ratios based on estimated 2011 earnings.