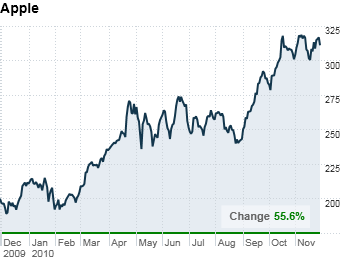 Market cap: $284 billion
2009 Revenue: $43 billion
P/E ratio: 15.7
Dividend yield: N.A.
At $315 a share and up 47% for the year, Apple looks expensive. We thought so when we wrote about it in September. But after poring over Apple's recent financials, we're now convinced it's cheaper than it appears and that sales of the already hot iPhone and the iPad are set to go stratospheric. A concern we raised was Apple's vulnerability to a key misstep -- such as the iPhone 4 antenna problem that grabbed headlines this past summer. Yet during the July-to-September quarter, iPhone sales thrashed expectations, skyrocketing 91% vs. the same period last year.
What's astounding is that Apple did it with one hand tied behind its back. The iPhone isn't yet sold via the dominant wireless carriers in the U.S., China, Japan, and South Korea. Once Apple sheds exclusivity deals such as AT&T's in the U.S., iPhone sales should get a huge boost. Industrywide, smartphone sales increased 96% last quarter, according to Gartner Research. Apple's market share doubled in Canada and France once the top carriers started selling the iPhone.
Then there's the iPad. Apple sold 3.3 million of the tablet computers in its first three months, surpassing the debuts of both its own iPhone and the netbook category. Don't bet on a sophomore slump: Sales of iPhones and netbooks rose 246% and 155%, respectively, in their second year, says Bernstein Research.
Analysts predict Apple will earn $19.85 a share in the 2011 calendar year (up from $16.73 in 2010), which translates to a price/earnings ratio of 15.7. Sure, this is higher than the S&P 500's 13 P/E, but Apple's earnings have increased an average of 45% over the past three years, while the S&P's earnings have declined 4% per year.
Moreover, Apple's P/E is arguably inflated. Its free cash flow -- money actually flowing into company coffers -- is 14% higher than its reported net income, notes Bernstein analyst Toni Sacconaghi. Apple has over-reserved for U.S. taxes on foreign profits, but, according to Sacconaghi, the company is moving to reduce that, which will have the effect of boosting Apple's reported earnings and reducing its P/E. "The stock is definitely not overpriced," says Sacconaghi, "especially not for a company so well positioned in such fast-growing markets."
More galleries
Last updated December 20 2010: 2:27 PM ET
All stock prices as of Nov. 30; price/earnings ratios based on estimated 2011 earnings.