Anesthesiologists take home a median $290,000 salary annually. What other great careers from Money and PayScale.com's list of Best Jobs in America offer big paychecks?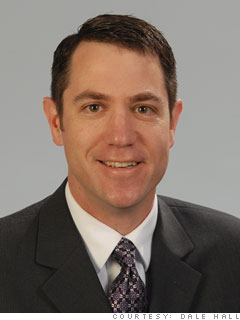 Dale Hall, 39, is an actuary at Country Financial in Bloomington, Ill.
Median pay: $133,000
Top pay: $222,000
Responsible for weighing a company's financial risk and uncertainty, actuaries assess financial instruments, such as pricing products or securing cash reserves. The combination of education required and responsibility make it one of the country's most lucrative professions.
"A lot of what I do is help design products that will help people reduce or manage their own personal risk. I enjoy the altruistic sense of it," says Dale Hall, who works at Country Financial in Bloomington, Ill. "It's doing things that help those in the world around me."
"The typical path to actuary would be if someone majored in math or actuarial science in college. But there's a strong need to be able to convey what we do to others, so round out with other competencies, such as communication and leadership.

NEXT: Senior Sales Executive

Last updated October 11 2010: 8:13 AM ET
Source: All pay data from
PayScale.com
Note
: We looked at jobs from the top 100 with the highest top pay. Median salary is for an experienced worker (at least two to seven years in field). Top pay represents the 90th percentile.