Your post-work years are a time to improve your golf game, take up a new hobby, or just enjoy a well-deserved break. In these great college towns, you can expand your intellectual horizons too.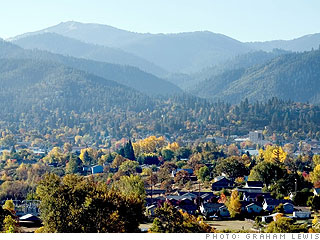 Population: 21,299
% over 50: 35%
Median home price: $308,300
State income tax: 11%*
Many would-be retirees discover Ashland while in town for the renowned 75-year-old Oregon Shakespeare Festival, which puts on some 780 repertory performances a year. Others are drawn by the outdoors, including a huge network of hiking trails accessible from downtown's Lithia Park, skiing at nearby Mt. Ashland, and easy day trips to the Pacific Ocean, Crater Lake or the Rogue River. Still others are wooed by the Victorian homes, delectable restaurants and quirky boutiques.
While these are all good reasons to move to Ashland, the Southern Oregon University is a great reason to stay. For a fee of $100, members have carte blanche to take as many as 90 courses a quarter, three quarters a year, with topics covering everything from Japan in film to English country dancing.

See complete data and interactive map for Ashland

NEXT: Ames, IA

Last updated October 06 2010: 4:55 PM ET