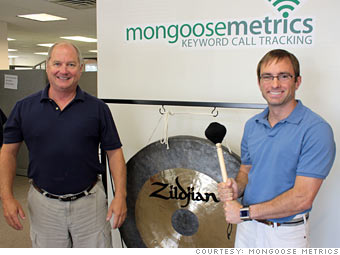 CEO Brad Reynolds (R) and VP Stephen Abbey with the gong that sales representatives get to ring when they secure a sale of $10,000.
Location: Cleveland, Ohio
Employees hired in last year: 12
Total Employees: 18
Businesses that made it through the recession are taking a scalpel to their budgets, and eliminating unnecessary spending. That's why Mongoose Metrics is expanding so rapidly.
Mongoose has hired a dozen employees in the last year, and will continue to significantly ramp up their headcount in coming years. "We are nowhere near tapping the customers that we want to tap for our products and services," said Brad Reynolds, CEO of the firm.
The Cleveland-based startup analyzes the marketing dollars of big companies, and tells them what is working and what is not. Mongoose uses an online tracking software and a program to analyze phone calls between a client and their customers. "If somebody has a marketing budget, we want to show them how every dollar they spend converts into an action," Reynolds said.
NEXT: Toppers Pizza