Want a tablet that's not an iPad? Here's a look at 4 tablets hitting retailers' shelves.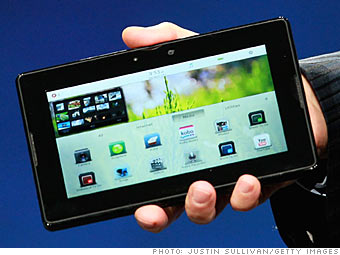 Launch date: Early 2011
Operating system: New OS from QNX Software Systems
Cost: To be announced
BlackBerry maker Research in Motion unveiled its PlayBook tablet at the company's DevCon developer gathering in San Francisco on Monday.
The PlayBook features a 7-inch screen, Flash-capable video and a front and rear high-definition camera. It's a thin tablet, at just 9.7 millimeters. RIM didn't reveal a price point for the tablet.
The tablet won't run on RIM's newly launched BlackBerry 6 operating system. It will instead be built around a new platform from QNX Software Systems, which RIM acquired earlier this year.
The PlayBook could help revive RIM -- or seal its fate. RIM fended off critics by posting strong sales and subscriber growth last quarter, but its just-launched BlackBerry Torch is an also-ran in the fast-moving smartmarket field. To keep its mobile platform on pace with those of Apple and Google, RIM needs a game-changer.
NEXT: Samsung Galaxy Tab
Last updated September 28 2010: 5:48 PM ET