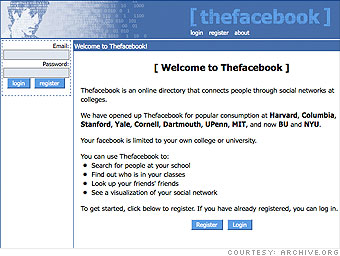 Facebook
Launched: 2004 as TheFacebook.com, moved to Facebook.com in 2005
When the social networking giant launched in 2004, founder Mark Zuckerberg took it live with the domain name thefacebook.com. A year later, Facebook dropped "the," purchasing facebook.com.
That wasn't the end of the domain drama. In August 2007, Facebook filed a complaint with the World Intellectual Property Organization against www.face-book.com, a portal site that ran ads and links for websites similar to Facebook. WIPO quickly ruled in Facebook's favor, ordering that the domain name be transferred. Since then, Facebook has lodged seven additional WIPO complaints, rounding up stray domains such as facebok.com and facebook.me.
It's now taking aim at sites with less direct naming similarities. In August, it filed a complaint against Teachbook.com, and more recently it went after Faceporn.com.
Facebook snapped up another domain for its collection last week: Fb.com, purchased from the American Farm Bureau. While neither party will comment on the price, Zuckerberg joked, "We took over Fb.com from the farm bureau ....we promised them we wouldn't buy any farm subsidies."
NEXT: An equity investment pays off
Last updated November 23 2010: 12:13 PM ET