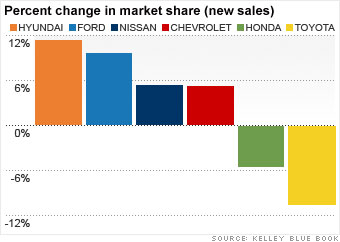 While it's bad to lose sales, it's worse to lose them when competitors are gaining.
Still, as bad as things were -- and they were terrible -- things could have been worse for Toyota. February and March, when Toyota sales were really in bad shape, were also the depths of the auto crisis. People weren't buying anyone's cars then, but especially not Toyota's.
Another factor that's hurting Toyota's market share: the Koreans.
"Honda is suffering, as is Toyota, from the stronger competitiveness of Kia and Hyundai," said Kelley Blue Book's Jack Nerad.
NEXT: Buy a Toyota? Wouldn't think of it
Last updated January 18 2011: 3:29 PM ET