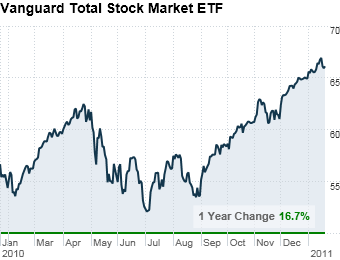 Buy:
The best bets for ETF newbies are those that have broad stock market exposure, said Kyle Schaeffer, managing director and senior investment advisor at Ballentine Partners.
In general he likes Vanguard products because the brokerage firm offers low-cost and commission-free ETFs. Schaeffer suggests investors try Vanguard's Total Stock Market ETF (VTI), the Europe Pacific ETF (VEA), and the Emerging Markets ETF (VWO). Other brokerage firms also offer similar products, including Charles Schwab's U.S. Broad Market ETF (SCHB), International Equity ETF (SCHF), and Emerging Markets Equity ETF (SCHE).
To play a little bit of defense, Schaeffer advises to also buy Vanguard's Dividend Appreciation ETF (VIG), which invests in companies that have consistently raised their dividend payouts, such as McDonald's (MCD), IBM (IBM )and Wal-Mart (WMT).
In addition to broad market ETFs, small caps have been gaining a lot of traction and Vanguard's Small-cap growth ETF (VBR) can help boost your exposure to companies such as ETrade (ETFC) and Williams-Sonoma (WSM), said Bill Witherell, chief global economist at Cumberland Advisors.
Don't buy: While some of the recommended 'buys' include emerging market ETFs, Morningstar's director of ETF research Paul Justice says those ETFs may be overbought since investors spent the past two years flocking to them.
Vanguard's Emerging Markets ETF (VWO) raked in more than $19 billion last year and was by far the most popular ETF for the year, according to IndexUniverse. Overall, it ranks third, followed by BlackRock's iShares MSCI Emerging Markets Index Fund (EEM) in fourth place.
NEXT: Sector-specific funds
Last updated January 24 2011: 7:50 AM ET