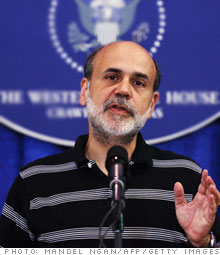 Even before Ben Bernanke became Fed chairman, he had his fair share of detractors. Critics often point to a 2002 speech that earned him the nickname "Helicopter Ben."
Speaking as a Fed governor, Bernanke mentioned Milton Friedman's parable about how a "helicopter drop" of cash could spur inflation, if falling prices seemed a threat to the economy.
It was meant to be a simple way of calming investors, but unfortunately for Bernanke, Fed skeptics are still hounding him about it. As Bernanke's Fed injected billions of dollars into the economy following the Great Recession, he was often recast as the Fed chairman willing to throw dollar bills out of helicopters.
NEXT
Last updated March 24 2011: 3:05 PM ET