A long-term, sustainable recovery in Haiti can't take place without job creation. Investing in reviving Haiti's garment manufacturing sector holds the promise of providing tens of thousands of Haitians with work.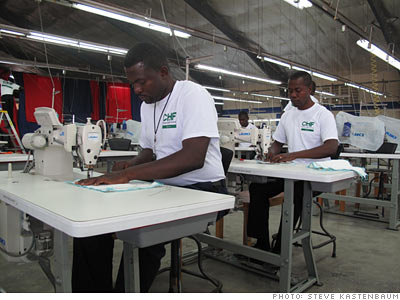 Haitians train for work in the garment industry at the Haitian Apparel Center through a U.S. funded program, the Haitian Hemispheric Opportunity through Partnership Encouragement (HOPE) Act.
Billions of dollars have been pledged to the recovery and reconstruction effort in Haiti.

It's the goal of the Haitian government and the international community to create an economy in Haiti that is self reliant and sustainable over the long run.

As part of that process, planners are looking at sectors of the Haitian economy that have had success in the past.

At one time, the Haitian garment industry employed more than 100,000 workers. Today, 28,000 Haitians have jobs manufacturing clothing according to the Association of Industries of Haiti. Most of the factories at the Port-au-Prince Industrial Park next to the country's international airport were not damaged in the earthquake and production was able to resume within weeks of the disaster.
NEXT: Clothing manufacturing supplies were difficult to get
Last updated January 21 2011: 1:08 PM ET