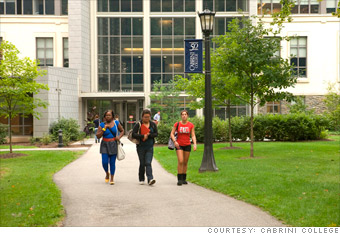 Location: Radnor, Pa.
Tuition cut: 12.5%
Total tuition & fees: $29,000 (beginning in fall 2012)
Type of school: Private Catholic liberal arts college
Number of students: 1,300
Despite the down economy, Cabrini College says its bottom line is strong enough that it can give its students a helping hand.
To make this a reality, the school's Board of Trustees announced this month that it will slash tuition by 12.5% for the 2012-2013 school year and cap the new price tag of $29,000 through 2015.
"Cabrini College is financially strong and students will continue to experience the same extraordinary programs and faculty," Cabrini President Marie Angelella George said in a statement.
The school said that while other colleges have only been able to cut tuition because they have simultaneously slashed scholarships for returning students, Cabrini will keep merit scholarship funding at current levels.
Cabrini is a Catholic-affiliated college but is open to all religions. Only a half-hour drive from Philadelphia, Cabrini offers 30 majors in liberal arts, sciences and professional studies. More than 98% of students receive need-based financial aid or merit scholarships.