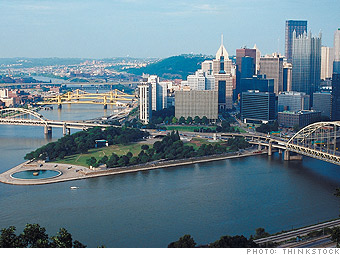 Median home price: $133,000
Drop since market peak: 0.6%
Forecast gain by 9/2012: 4.6%
The Pittsburgh market has been relatively stable through the boom/bust cycle. In fact, there has been nearly no movement in home prices over the past few years.
Most mortgage lending in the former steel behemoth was conservative, with relatively few of the toxic subprime loans that yielded disaster in many areas. Not that the town was completely immune to foreclosures.


"Some neighborhoods had significant foreclosure contagion, where everyone on the block was in default," said Austin Jaffe, a director at the Institute for Real Estate Studies at Penn State.
Overall, however, the metro area ranks very low on RealtyTrac's latest list of metro area foreclosures, at just 165th of 206 markets.
Two other factors will help buoy the housing market over the next few years: The area unemployment rate has been low (7.5% in December); and housing is very affordable. Low home prices and moderately high median family income at $62,400 means the financial barriers to homeownership are very low.
NEXT: Seattle
Last updated February 07 2011: 5:51 PM ET
Source: Fiserv; based on cities with a population of 500,000 or more.