Home prices are poised to fall in most markets this year, but 2012 will bring a rebound. Here are the 10 large metro areas that will record the largest price gains.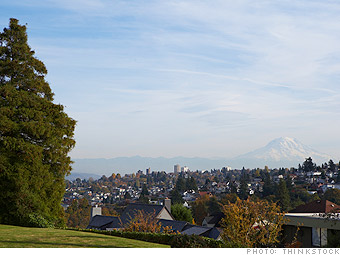 Median home price: $240,000
Drop since market peak: 27.9%
Forecast gain by 9/2012: 11.8%
Tacoma is a mini-Seattle, situated right next door to the Washington capital. It's an important port, a rail terminus and enjoys easy access to the mountains and Puget Sound. It does have a more blue-collar history than Seattle, with oil refining and paper manufacturing playing big roles its economy even today.

It also has the advantage of more developable land. "King County (Seattle) is built out," said Lennox Scott, CEO of John L. Scott Real Estate. "A lot of the new single-family-home development is going into the Tacoma area."

There's a price difference between the two markets with Seattle houses selling for about 50% more than Tacoma's. As recovery proceeds, that gap will shrink a little, and Tacoma homes will appreciate more rapidly.

"There will be a shortage of supply in the more affordable price ranges," said Scott, "and that will put pressure on prices."
NEXT: Palm Bay, Fla.
Last updated February 07 2011: 5:51 PM ET
Source: Fiserv; based on cities with a population of 500,000 or more.