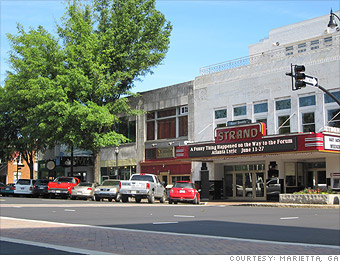 Population: 56,600
% over 50: 28%
Median home price: $168,000
Top state income tax: 6%
Cost of living index: 95
Antebellum history has woven itself into the fabric of everyday life in this small city 20 miles north of Atlanta. The 2,888-acre Kennesaw Mountain Battlefield National Park draws Civil War buffs and fitness buffs alike with more than 17 miles of trails that meander past monuments and historic home sites.
Downtown's Marietta Square once housed a military hospital and militia training ground, but today it plays host to a variety of community events, from the weekly farmers' market to outdoor theater productions. The city's many historic districts mix carefully preserved architecture with chic boutiques, restaurants, art galleries, and museums, including one that pays tribute to "Gone with the Wind."
And yet home prices here won't make you swoon. You can find stately three-bedrooms for less than $180,000. Meanwhile, there's no shortage of facilities, classes or events geared toward the area's older residents. The annual Cobb County Senior Games, for example, pits residents against each other in everything from basketball to billiards.
See complete data and interactive map for Marietta