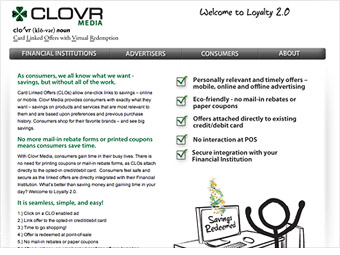 If you like deals but hate dealing with coupons, Clovr Media lets you link savings directly to your credit or debit card.
For example, if Clovr is advertising 20% off at The Gap, you can opt in, swipe your card to buy something at The Gap, and the savings will then be credited back to your account.
More than 20 of the nation's largest merchants have already signed up to provide offers through Clovr, when the service officially launches on Aug. 1.
Edo is another company cashing on the coupon craze. It partners with major retailers and banks to offer consumers deals. If your bank partners with Edo, you can view a list of current offers when you log in to your bank account. But unlike Clovr, the savings show up in your bank account in real time as soon as you swipe your card.
Bankons is a similar company, but it has taken a more localized approach, partnering with local retailers and allowing customers to use their smartphones to track nearby deals. It's mobile app is not available to the public yet, but will be released in the coming months.
All of these services are free for consumers.