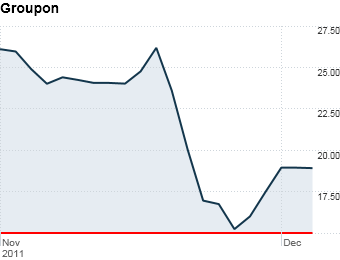 Ticker: GRPN
IPO date: November 4
IPO price: $20
Now trading at: $19.04
Revenue in trailing 12 months: $1.3 billion
Loss in trailing 12 months: $574 million
Groupon -- hailed by Forbes as "the fastest growing company ever" -- was controversial even before the daily deals site filed its paperwork to go public. Business owners have loudly complained that doing business with Groupon isn't worth it, and the barriers to entry into the group coupon business are so low that Groupon needs to maintain an expensive marketing campaign to lure customers to its service instead of one of a dozen competitors.
Once Groupon did disclose its financials in its IPO filing, the situation got even worse. The company was barraged with criticism for unorthodox accounting measures, which led to several downward revisions of its financials. Those restatements effectively cut Groupon's reported sales in half, to $688 million for the first half of 2011, down from the $1.5 billion it claimed previously.
Despite all that, Groupon shares soared 30% on the stock's first day of trading, at one point topping $31 a share.
But the hype was short-lived. Groupon shares are down more than 27% since their debut last month -- they now trade around $1 below the IPO price. How's that for a deal?