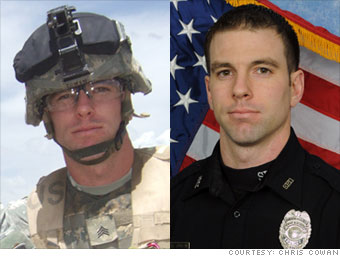 Then: Army sergeant in Afghanistan, two tours, ending in 2007


Now: Police officer
Chris Cowan served in Afghanistan as an Army infantryman with Rowley and Baldwin. He patrolled in a Humvee and manned a variety of weapons under fire, including the M4 carbine and M240 machine gun. But he traded in his cammies for a badge four years ago and joined the Syracuse Police Department in New York.
Police work is one of the few civilian careers that's a close fit for infantry soldiers. "It's a really good transition," Cowan said. He noted that there are lots of similarities between the two enterprises, including the "quasi-military" rank structure of police departments and a culture that values teamwork, discipline and a "warrior mindset."