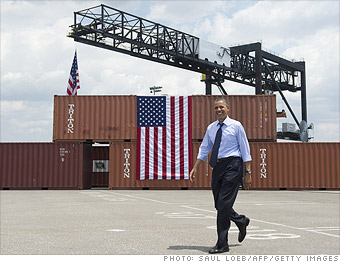 Unemployment rate: 8.6%
Electoral votes: 29
Florida is in a tough spot.
Weighed down by a troubled housing market, Florida's economy is growing at an extremely slow rate. The state's unemployment rate is one of the highest in the country, and per capita income growth is on of the nation's worst.
Foreclosure rates remain elevated, many homeowners are underwater, and existing home sales are only sputtering along.
According to the Florida Legislature Office of Economic and Demographic Research, 749,500 jobs have been lost in the state since the labor market's most recent peak. And the state needs to create 1 million jobs for the same percentage of the population to be working as at the peak.
One of the most populous states in the country, Florida has a whopping 29 electoral votes, making it the biggest prize of the states CNN currently rates as a toss up.
It also has a history of deciding elections -- remember 2000?