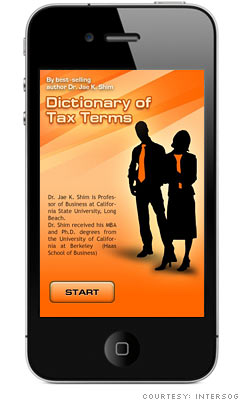 App: Dictionary of Tax Terms
If you have a question about a tax term while filing your return, you can find definitions to all kinds of jargon using the Dictionary of Tax Terms app.
Not sure what "amortization" or "depreciation" means? Or are you wondering what a certain form is used for? Plug in any tax-related word you're stumbling on and get a definition immediately -- no Internet connection required.
The app, which holds more than 600 words and definitions, was created by a business professor at California State University and is available on iPhones and BlackBerries.
But since it costs $2.99 to download, make sure you're going to be putting it to good use. Other apps, like the H&R Block Mobile app, have glossaries that can be used for looking up common tax terms for free.