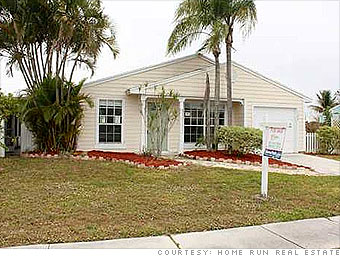 Price now: $62,500
Price at last sale: $218,000 in 2007
Bedrooms: 3
Baths: 2
Built in 1984, this Florida home has a view of a small lake and is just 12 miles from the Atlantic Ocean beaches.
While its location is one of its selling points, it's also one of the reasons why this property is so cheap. This neighborhood in Royal Palm Beach (zip: 33411) was number 40 on the top 100 list of zip codes with the highest number of foreclosures last year.
This home's $62,500 list price is less than what it sold for nearly 20 years ago and a far cry from its $218,000 sale price in 2007.
Part of that extreme discount is due to the fact that the place needs some work. The new owners will have to put in a whole new kitchen and bath and the siding may need to be replaced, according to Jaime Francfort, the agent representing the property.
For more information:
Trulia