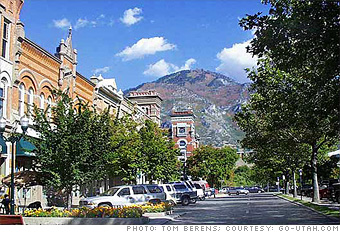 Population: 482,819
Growth (2000-2010): 59%
With its pro-business policies, including low corporate taxes, and two big universities, Brigham Young and Utah Valley, Provo has become a hotbed for entrepreneurs, according to Jaren Pope, an economics professor at BYU.
The local universities also provide employers with a steady stream of willing and capable workers, according to Pope. "These are the descendants of Mormon pioneers," he said. "They have a strong work ethic and are highly motivated employees."
The area enjoyed a healthy employment rate over the past decade, even during the recession. In January, the unemployment rate in Provo was just 5.9%, far below the national rate of 8.3%.
Provo has also become a destination for retirees and others seeking a low-crime community with easy access to nature. Pope said over 90% of the state's population lives in the valleys along the Wasatch Front, the chain of towns along the base of the Wasatch Mountains.
Much of the rest of the land in the area is barely developed and Provo residents can be on the ski slopes of Sundance in less than half an hour.