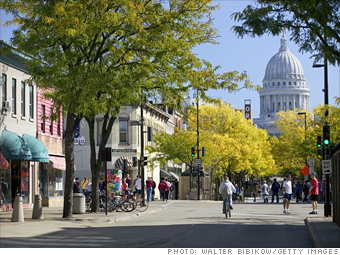 Madison, Wis.Population:
233,209
Median home price:
$207,270
2011 price change:
-3%
Home to the University of Wisconsin-Madison, this Midwestern capital is a thriving, bike-friendly cultural mecca.
Hanover, N.H.
Population: 8,636
Median home price: NA
2011 price change: NA
The remote but bustling New England college town is part of the Appalachian Trail and home to Dartmouth College.
Richmond, Va.
Population: 204,214
Median home price: $206,200
2011 price change: 0.3%
The historic city is two hours from D.C. -- and gaining a rep for its culture and cuisine.

By Anne VanderMey, reporter
@FortuneMagazine
- Last updated June 20 2012: 10:44 AM ET