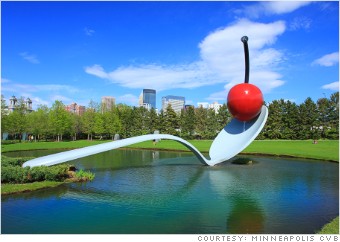 Park land as a % of city area

: 15.1%

Spending on parks per resident

: $210
"You can't have a great city without a great park system," said Adrian Benepe, senior vice president at the non-profit Trust for Public Land, which recently released its ratings of city park systems.
Minneapolis' parks ranked number one thanks to the services it offers, like its management of community sports leagues, and ease of access for residents.
No matter where a person lives in the city, they are no more than six blocks away from one of the city's 197 parks, said John Erwin, the president of the city's parks and recreation board.
Related: 10 most polluted cities
The city's parks are built around the area's abundant water resources, which includes seven lakes and numerous rivers and streams, said Erwin. The latest planned park involves re-purposing an old industrial area along the Mississippi River.