NEW YORK (CNN/Money) - Software companies are coupling up like drunken teens at a wild house party.
In the past week, Business Objects (BOBJ: Research, Estimates) bought IPO candidate Crystal Decisions and Hyperion Solutions (HYSL: Research, Estimates) scooped up Brio Software (BRIO: Research, Estimates). These deals come on the heels of EMC's (EMC: Research, Estimates) purchase of storage software firm Legato Systems (LGTO: Research, Estimates), and of course, PeopleSoft's (PSFT: Research, Estimates) merger with J.D. Edwards (JDEC: Research, Estimates) and Oracle's (ORCL: Research, Estimates) hostile bid for PeopleSoft.
Wall Street is cheering the consolidation craze in software because there are simply too many struggling software companies. Takeovers will weed out the weak.
But what about semiconductors? Hopefully, this industry will soon follow suit with a merger mania of its own.
Too much capacity equals no pricing power
While demand for chips appears to be stronger than software right now, demand is not so strong as to justify the glut of companies that exist. As such, few semiconductor firms have pricing power and several -- including Advanced Micro Devices (AMD: Research, Estimates), Atmel (ATML: Research, Estimates) and Triquint Semiconductor (TQNT: Research, Estimates) -- have continued to lose money despite increasing revenue.
"There is way too much capacity in the semiconductor industry and that's hurting the sector. The number of chips sold are likely to increase this year but prices are coming down," said Woody Calleri, a chip analyst with FTN Midwest Research. He does not own any of the stocks he follows and his firm does no investment banking.
Calleri said chip companies are like the dim-witted flock of seagulls ("And I ran, I ran so far away...") in "Finding Nemo," all fighting over the same customers.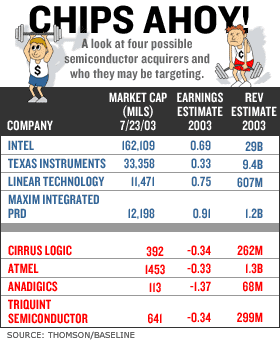 This has not been lost on industry leaders. In fact, Intel (INTC: Research, Estimates) CEO Craig Barrett was quoted in a German newspaper earlier this month as saying that he expects consolidation to take place over the next few years as the industry begins to mature.
Just look at what is happening in the "wi-fi" market, which is supposed to be one of the hottest growth areas in the semiconductor sector. Chips that allow PCs and other devices to be connected to the Internet through local area networks without cables are already on the verge of becoming a commodity.
For that reason, Intersil (ISIL: Research, Estimates), one of the leaders in this market, announced last week that it was selling its wi-fi business to GlobespanVirata (GSPN: Research, Estimates). It's just getting tougher to make money off of wi-fi chips now that bigger competitors such as Broadcom (BRCM: Research, Estimates), Texas Instruments (TXN: Research, Estimates), and Intel, which entered the wi-fi market with a big splash in March, are selling wi-fi chips as well.
"Intersil was the king of the hill in this area," said Alex Vallecillo, portfolio manager for National City Investment Management, "But now everybody wants to be in the wi-fi business."
The hunters and the hunted
So which chip companies are likely to go shopping and who are the targets?
Vallecillo said that the largest companies, such as Intel and TI are obvious acquirers and added that some of the analog companies, namely Linear Technology (LLTC: Research, Estimates) and Maxim Integrated Products (MXIM: Research, Estimates), which have held up better during the downturn, could be looking for deals as well.
Cirrus Logic (CRUS: Research, Estimates), which reported a wider-than-expected quarterly loss Wednesday, as well as flash memory chip maker Atmel and analog integrated circuit firm National Semiconductor (NSM: Research, Estimates) are possible targets, Vallecillo said.
Calleri thinks that the communications chip market is suffering from the most overcapacity. "Cell phone manufacturers don't want to go to 12 different component makers to buy chips," he said.
Recently in Tech Biz

With that in mind, he thinks that TI, RF Micro Devices (RFMD: Research, Estimates) and Skyworks Solutions (SWKS: Research, Estimates) could be potential buyers and that Triquint, Anadigics (ANAD: Research, Estimates) and Silicon Laboratories (SLAB: Research, Estimates) are likely takeover targets.
Now all we need is for someone to take the first bold step and set the merger carousel in motion. There has yet to be a significant chip deal. The Intersil transaction was an asset sale, not an outright merger. Another small deal was announced in May, with Zoran (ZRAN: Research, Estimates), which makes chips for DVDs and digital cameras, buying Oak Technology (OAKT: Research, Estimates), which makes semiconductors used in digital imaging devices and high definition televisions.
That's about it. And it might stay that way now that chip stocks are heading higher and companies believe that a second-half IT spending recovery is a certainty.
"The biggest problem is that you have reluctant sellers. There has not been enough pain yet," said Vallecillo.
But Calleri said that stance would hurt the chip sector in the long run because even if demand picks up, semiconductor firms still won't have any pricing power until they can start to lower supply.
In other words, it seems like big chip companies should start copying the software sector and follow the immortal words of game show host Monty Hall, "Let's make a deal."
---
Sign up to receive the Tech Biz column by e-mail.
Plus, see more tech commentary and get the latest tech news.