NEW YORK (CNN/Money) - As we approach Thanksgiving, it's time to salute everybody's favorite edible, flightless bird: the turkey.
Now before I'm bombarded with e-mails pointing out my ignorance, I do realize that wild turkeys (in addition to being a tasty bourbon) can fly.
More about big tech laggards

But I'm actually here to tell you about tech turkeys, stocks that have not participated in the sector's huge 46 percent rally this year.
Oracle, Nokia and IBM have all lagged, with gains of less than 20 percent. And the biggest tech of them all, Microsoft, is actually down slightly. I've written about these giants many times, and I think there are good reasons why they have underperformed and why they might continue to do so.
Still, I think there are some other sluggish tech stocks that might be able to shrug off their logy, L-tryptophan-laden turkey status and soar in 2004.
Here are five. Gobble gobble gobble!
Affiliated Computer Services -- Tech outsourcing is a big business. And ACS (ACS: Research, Estimates) has carved a nice niche for itself from a relatively stable group of customers -- local, state and federal governmental agencies. ACS handles relatively mundane tasks, such as billing, collection and accounting, for its clients.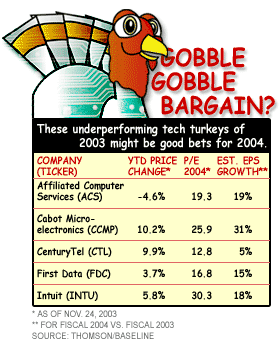 Shares are down about 5 percent this year. But ACS held up extremely well during the brutal bear market, so it's not surprising that it isn't experiencing the type of dead cat bounce that many low-quality techs have enjoyed.
Earnings are expected to increase 19 percent next year, and the stock trades at 19 times estimates. That's a bargain.
(ACS also is on Money Magazine's list of 20 stocks that could be blue chips for the next generation -- click here for the full list.)
Cabot Microelectronics -- Semiconductor stocks have been big winners this year, as have shares in the companies that make equipment and tools for them.
But while industry leader Applied Materials has nearly doubled and Lam Research has almost tripled, some smaller names have slipped under Wall Street's radar.
Cabot Microelectronics (CCMP: Research, Estimates), which makes chemical products used by chip companies, is one.
Recently in Tech Biz

The stock is up just 10 percent this year and trades at 26 times earnings estimates for 2004. That's reasonable considering that analysts expect Cabot's earnings to increase 31 percent next year.
And if semiconductor companies like Intel, Cabot's second-largest customer, boost their capital spending budgets, these estimates may prove too low.
CenturyTel -- Telecoms have been the biggest turkeys of 2003. But that's created investment opportunities for some of the stronger carriers.
One in particular that looks solid is CenturyTel (CTL: Research, Estimates), based in Monroe, La.
Since they tend to cater to smaller markets, rural carriers like CenturyTel are not expected to face as much competition from wireless companies as the Baby Bells and long-distance titans. (For more about rural phone companies, click here.)
Still, shares of CenturyTel have gained only 10 percent year-to-date.
That's certainly a lot better than the double-digit percentage declines put up by Verizon and SBC Communications. But CenturyTel still looks like a relatively cheap stock.
It's trading at only 12.8 times earnings, a discount to Verizon (VZ: Research, Estimates) and SBC (SBC: Research, Estimates), even though Verizon and SBC are expected to post earnings drops next year and CenturyTel is expected to post a 5 percent increase in profits.
That's what I call a disconnect.
First Data -- This company, a leading processor of credit and debit card transactions, has been punished by Wall Street because of uncertainty about a large acquisition.
First Data (FDC: Research, Estimates) announced in April it was buying rival Concord EFS for about $7 billion. Shares are up just 4 percent year-to-date.
Shareholders of both companies recently approved the merger, but the Department of Justice has sued to block the deal on antitrust grounds. A trial is set for mid-December. Regardless of the outcome, First Data is primed to benefit as debit cards gain in popularity.
First Data also has a cash cow (pardon the pun) in its Western Union money-transfer business. First Data trades at only 17 times next year's earnings estimates and profits are expected to increase 15 percent.
Intuit -- You have to like a company that can admit when it screwed up. Intuit (INTU: Research, Estimates), the maker of the popular TurboTax software product, came under fire from its loyal customer base when anti-piracy functions built into last year's version of TurboTax prevented some users from being able to install it on multiple computers. Intuit agreed to remove the restrictive technology in May.
With this distraction aside, investors should focus on Intuit's strong fundamentals. The company has an annuity-like business in TurboTax and changes to the tax code this year could drive even more sales of the flagship product. Analysts are forecasting sales increases of 13.5 percent and 16.2 percent from a year ago in its next two quarters -- which end in January and April.
Shares of the company, which always does the most of its business as tax season approaches, tend to spike at the end of the year, so it's probably a better buy now than, say, early January. The stock is far from dirt cheap, at 30 times 2004 earnings estimates. But analysts are predicting a profit increase of 18 percent.
Happy holidays! My column will return on Dec. 9.
---
Sign up to receive the Tech Biz column by e-mail.
Plus, see more tech commentary and get the latest tech news.