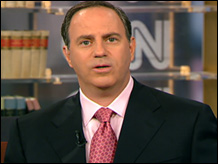 CNN's Andy Serwer takes a closer look at what is driving the surge in gas prices. (August 9)
Play video

NEW YORK (CNN/Money) - If betting odds are any indicator, it's looking more likely that gas will break $3 a gallon before the end of the year.
Since PinnacleSports.com, an online sportsbook, began taking bets on rising pump prices last Friday, 90 percent of all bets have backed gas prices exceeding $3 a gallon in the country's two largest markets.
The Internet betting site opened wagering with the odds on the average price of regular gas in New York or Los Angeles hitting $3 a gallon by New Year's Day as a 30:1 long shot.
Since then, those odds have dropped to 7:5, PinnacleSports.com spokesman Kyle Fratini said Thursday, citing the most recent odds.
When odds are 30:1, you make $30 for every $1 you bet, whereas with odds at 7:5, you only make $7 for every $5 you bet.
The shift in odds shows that the majority of bettors are expecting gas prices, which reached fresh peaks Thursday, to increase to unprecedented levels.
"Betting is a better indicator of public perception than opinion polls," Fratini said, adding that bettors on PinnacleSports.com accurately predicted the winner in every state in the last presidential election.
Geoff Sundstrom, spokesman for travel club AAA, said gasoline at $3 a gallon is within the "realm of possibility," but that AAA doesn't try to forecast gas prices.
He said, however, that the betting reflects the importance Americans attach to skyrocketing gas prices. "It speaks to the environment we're in now," he said. "Gas prices moving 5 to 10 cents a week is completely unprecedented."
Gas prices have jumped to record levels, with regular gas currently costing a record high $2.619 a gallon in New York and $2.693 a gallon in Los Angeles, according to AAA's daily fuel gauge report.
PinnacleSports.com is also taking bets on whether the national average gas price, which hit a fresh high of $2.397 Thursday, will reach $2.50 a gallon before the start of the new year.
Wagering opened with odds that the nationwide price would hit $2.50 a gallon at 3:2. With 88 percent of players believing that will happen, those odds were at 5:13 on Thursday, Fratini said.
Severe limits on refining capacity, record-high demand and an uncertain geopolitical environment have all contributed to an upswing in oil prices. That has led to heated debate over whether prices can keep rising.
"I would say it is a safe bet that gasoline prices are going to increase to the end of the decade. There will be peaks and valleys, but the overall trend is for higher prices," AAA's Sundstrom said.
------------------------------------------------------
Gasoline prices hit a new record high, click here for more.
How do record energy prices affect your wallet? Click here.
Will oil prices keep rising? Click here for CNN/Money's special report -- "Oil Crunch 2005."