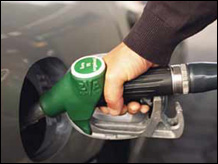 Airline carriers, utility companies and even pizza deliveries are imposing additional charges to consumers. (August 17)
Play video

NEW YORK (CNN/Money) - Inflation's growled back to life this week, as the government's latest price readings showed sharp jumps in inflationary pressures.
The Consumer Price Index rose 0.5 percent in July, the biggest jump since October of last year. And while the core CPI that excludes often volatile food and energy prices stayed in check, the Producer Price Index, the measure of prices paid by businesses rather than consumers, also showed the biggest jump since October, with the core PPI also posting a seven-month high.
All the readings except for core CPI came in above economists' forecasts for the period. And with oil and gasoline prices setting new records right and left during the last week, it was tough for economists and investors to shrug off the idea of renewed price pressure.
"If anything is going to trigger an increase in prices down the road, it's $65 a barrel oil," said Rich Yamarone, director of economic research at Argus Research.
But even Yamarone said that a one-month spike in core PPI is too little to go on to assume that inflation is a serious threat to the economy. He said the PPI numbers are among the most volatile tracked by economists. Still he and many other economists say they see more inflationary pressures going forward.
"I don't know that it's back, or back with a vengeance, but I think right now the cards are suggesting that inflation is coming," he said. "I don't think it's going to send the economy into recession, but I do think it'll take three-quarters to a full point off of economic growth."
But while high prices, especially higher oil prices, might put a crimp into economic growth, it might take a while for them to be seen in the prices that consumers pay away from the gas pump or home heating system.
"We still see limited penetration into the rest of the economy," said Anthony Chan, senior economist with JPMorgan Asset Management. "It's too early to say you're seeing pricing power to pass on the energy cost increases just because you saw just a jump in the core PPI number. The world has changed. In the old traditional world, whenever you had mature expansion, you had pricing power. Today with globalization, that's no longer the case." Chan said that corporate profit margins will suffer from the PPI rise outpacing the increases in CPI.
Matt Martin, senior economist, Economy.com, also believes the alarms going off this week on inflation may be premature. But like Yamarone, he sees price increases ahead, even in retail prices away from the energy sector.
"I think that in the months ahead, we'll see core CPI starting to rise," he said. "We can't expect a 0.1 percent increase every month going forward. But there's still a little bit of slack in the economy, that's somewhat of a restraint in businesses' ability to pass on price increases. By this time next year, any slack is likely to be gone and then we'll start to see inflationary pressure."
Still of the three economists, only Yamarone expects to see the Federal Reserve get more aggressive with a half-percentage point rate hike any time before the end of this year; he sees that steeper rate hike coming in December. The other two expect the Fed to stick with the course of quarter-point hikes seen at its last 10 meeting.
"The core CPI is now up 2.1 percent (on an annual basis)," pointed out Chan. "That's at the upper end of the Fed's zone of tolerance but it is still in the zone of tolerance."
For a closer look at the Producer Price Index report, click here.
For a closer look at the Consumer Price Index, click here.
For a look at the economy and what it means to you and markets, click here.