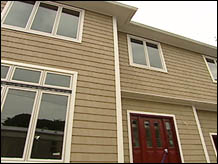 See how one homeowner is building an energy-efficient house. CNN's Allan Chernoff reports. (August 19)
Play video

NEW YORK (CNN/Money) - A new week, a new record: the stubborn surge in oil prices hasn't shaken the U.S. economy -- yet.
But economists and other experts expect that the months to come will challenge the ability of American consumers and businesses to keep absorbing the sticker shock of rising energy costs.
Again, there was no relief Thursday as oil prices set new record highs near $68 a barrel for U.S. light crude, and unleaded gasoline hovered at about $2.60 a gallon, up 39 percent from a year earlier.
If oil prices continue on their upward trajectory, could we relive the energy crisis of the 1970s?
Most economists interviewed for this story think that's an unlikely scenario.
For one thing, oil prices today are still about 20 percent lower than the peak of $87.59 a barrel, adjusted for inflation, from the early 1980s, according to the Energy Department.
Compared to 30 years ago, the United States has become more energy efficient and less fuel-reliant, said Fadel Gheit, oil analyst with Oppenheimer. "For every $1 of oil burned, we're doubling the output," Gheit said. "So even if oil consumption increases, the economy is growing faster than the rate of consumption."
Gary Thayer, chief economist with A.G. Edwards, agreed.
"In the 70s, we saw both energy costs and core inflation increase substantially," Thayer said. "The difference here is that inflation outside of energy is still very low. That means consumers still are not getting squeezed across the board and therefore it's not hurting the economy so much."
Finding ways to adapt
The success of the automakers' "employee discount" program is a perfect example that illustrates how industries are finding clever ways to cope with rising oil prices and their impact on consumers.
In fact, auto sales soared in July as consumers bought 1.8 million vehicles, up 16 percent from the same period a year earlier. More significantly, Americans bought more of the big gas-guzzling sport/utility vehicles and minivans than the smaller-type cars.
Said Gheit, "A sustained increase in gas prices usually erodes the economy from the bottom up. So anyone making over $50,000 probably isn't altering their spending patterns too much. It's the lowest income consumers that are most affected. That's why Wal-Mart's sales are soft."
Higher oil certainly hasn't curbed overall consumer spending, which fuels two-thirds of the economy. For example, retailers' same-store sales -- a measure of sales at stores open at least a year -- have been relatively robust over the summer months.
Nevertheless, a warning from Wal-Mart that gas prices are affecting its mostly low- to middle-income shoppers does raise some concerns. As the world's largest retailer, which attracts 100 million customers a week, on average, Wal-Mart's status as a barometer of the health of the consumer cannot be underestimated.
It's more than just housing
Analysts say the nation's housing market has made consumers feel wealthier, acting as another bulwark against rising energy prices. But if rising interest rates combine with higher oil to dent housing, that could spell economic S-L-O-W-D-O-W-N ahead.
"Housing is a major bulwark for the economy," said Michael Bazdarich, senior economist with UCLA Anderson Forecast. "I would hate to think what would happen if and when the housing activity gets tapped out."
"What really matters is the mortgage market -- both rates and terms," Peter Morici, economist at the Robert H. Smith School of Business at the University of Maryland, wrote in a note Thursday.
Click here to check oil prices
"As long as housing prices don't go down, consumers have more equity they can borrow against. If mortgage rates go up another 1.25 or 1.5 percent and pierce 7 percent -- watch out. That's when the housing bubble bursts and consumers would cut back on spending a lot."
Even if that happens, A.G. Edwards' Thayer said that he wouldn't be too worried.
"Housing gets a lot of attention but you also cannot ignore real growth in incomes and jobs. I don't think Americans are dipping into their home equity as much as you think," Thayer said.
What's the breaking point?
Thayer thinks the psychological threshold for consumers is $3 a gallon at the pump. "This is when consumers will make noticeable changes to their budgets," he said.
Dave Costello, chief economist with the Department of Energy, thinks that could become a reality.
"Our outlook is for oil prices to remain fairly high through the end of 2006. Our macroeconomic model also shows GDP growth slowing to under 3 percent," Costello said. Gross domestic product, the broadest measure of the nation's economy, grew at a 3.4 percent rate in the second quarter.
But even if Americans find themselves digging a little deeper for the extra gas dollars, others argue that they're still better off than consumers in Britain, Germany and other parts of Europe who've been paying $4 to $6 a gallon for years.
"I look at this situation as our trial by fire," said Gheit. "Rising oil prices are inevitable. It's like we've been enjoying rent control for a very long time and now we find ourselves having to pay market prices and we're complaining."
"Higher oil prices aren't hitting industrial output so far. I think companies will make a concerted effort to become even more energy efficient," he added. "This is a new era that we live in and consumers have to learn to adapt. If we curtail our energy consumption, ultimately it's a good thing for the economy."
____________________
How is the U.S. trying to improve fuel efficiency in cars? Click here.
What's your gas gripe? Click here.