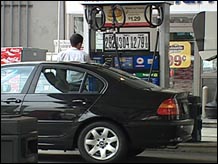 Another day, another record at the pump. CNN's Allan Chernoff reports. (August 31)
Play video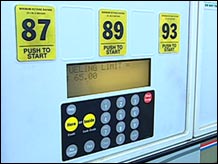 With gas prices climbing, CNN/Money's Allen Wastler shows you how to stretch your dollars at the pump. (August 31)
Play video

NEW YORK (CNN/Money) - If gas hits $4 a gallon, then all bets are off for the U.S. consumer who has shown remarkable resilience to higher gasoline prices.
The precipitous gas price hikes will hit U.S. consumers both psychologically and in their wallets, economists say.
"It's hard to imagine gas prices at $3 a gallon even a few months ago," said Steve Cochrane, economist with Economy.com. "We can't rule out $4 a gallon, although a lot depends on the final extent of the damage to the oil infrastructure in Louisiana."
The nationwide average price for unleaded gasoline set a new record high Wednesday of $2.61 a gallon, according to AAA. That's up 40 percent from a year ago. Prices for crude oil hovered near record highs just under $70 a barrel.
"Hypothetically speaking, if the gasoline crunch forces prices up to $4 a gallon in the next three months, that would be a pretty big hit to the economy and to the consumer," said UBS economist Jim O'Sullivan.
But while Katrina's impact could push gasoline prices higher in the short-term, crude oil would have to spike to about $110 a barrel for gas prices to be sustained at the $4 level, he said.
"I don't expect that to happen," O'Sullivan said. However, O'Sullivan agreed that any incremental price increases beyond $3 a gallon will stretch consumers even more, particularly in the low-income demographic.
The negative effect of higher gas prices is by no means relegated to lower income Americans. Michael Niemira, chief economist and director of research with the International Council of Shopping Centers (ICSC), said he's concerned that the longer gas prices are elevated, middle-income consumers will start to feel the squeeze, too.
"Our own surveys of 1,000 U.S. households over the past year indicates that more middle-income households are also cutting back spending to some degree," Niemira said.
Retailers that cater to low-income shoppers, such as discounter Wal-Mart (Research), have already warned of slower sales in the months ahead.
Analysts say a noticeable pullback by moderate-income shoppers will likely dent sales of mid-tier retailers like specialty apparel chains, department stores, footwear sellers, furniture and high-end merchants.
According to the Census Bureau, about 15 percent of U.S. households qualified as "moderate income" households in 2004, earning between $35,000 to $49,999. Another 12 percent of households earned between $25,000 to $35,000 last year. The median household income was $44,389 in 2004.
Gas price hikes have both a real and emotional effect on consumers, said Wendy Liebmann, president of WSL Strategic Retail.
"If I put $60 a week into gas, that a huge chunk of my disposable income even for a moderate income household," said Liebmann.
"Another $1 out of consumers' pockets certainly affects consumers' willingness and ability to spend on items other than the basic necessities," Liebmann said.
What will you give up first?
Cary Silver, vice president and consumer trend analysts market research firm GfK NOP, has researched how consumer behavior and spending patterns are affected in prior periods of more expensive gas.
According to Silver, consumers typically resort to a "first-stage coping strategy." They'll cut back on pricey items and they won't eat out or go to the movies as much.
"We're already seeing this pattern with lower-income consumers," Silver said. "Moderate-income consumers have been coping by shopping at discount stores more often and at locally-owned businesses located closer to their homes."
Ironically, paying more for gas hasn't yet diminished consumers' appetite for big gas-guzzling sport/utility vehicles and minivans.
Said Silver, "Other retailers can learn this lesson from automakers' "employee discount" program. You can still get consumers to buy if you give them a good deal. Americans will keep buying these bigger cars until it becomes 'un-American' to drive an S/UV."
Home sweet home
No doubt, the still-hot housing market has helped to soften the blow of rising gas prices to consumers. For example, retailers' same-store sales -- a measure of sales at stores open at least a year -- have been relatively robust even during the peak driving summer months.
Said Economy.com's Cochrane, "People continue to tap into their home equity as an additional source of wealth. The low long-term interest rates are allowing people to refinance their mortgages. That's one reason Wal-Mart was among the first to feel the gas price crunch because many of it's low-income shoppers aren't home owners."
Analysts also credit an improving job market and decent income growth for propping spending.
Said ICSC's Niemira, "Until July, income growth has outpaced the added dollars spent on gas. But gas prices have risen much faster in August. Income growth still has to outpace the increase in gas prices to at least offset the negative effective on consumers."
Economists will also get a better picture of the labor market with this week's much-anticipated August employment report. The consensus estimate is for 190,000 new jobs, down from 207,000 new jobs added in July, according to Briefing.com.
Beside gas prices, consumers may also have to contend with higher energy bills going into the winter holiday shopping season. The fourth-quarter is the most crucial period of the year for retailers, contributing to almost half of merchants' annual profits and sales.
"If I'm a retailer, I wouldn't want to try to outsmart the consumer this Christmas. Retailers could discount earlier than usual this year," said Silver. "Online retailers will benefit because more people will stay at home and shop."