More on Katrina's fallout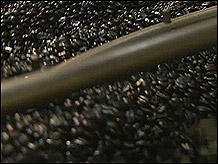 Hurricane Katrina will force the prices of housing, coffee, food and energy upward. CNN's Ali Velshi reports (September 6)
Play video

NEW YORK (CNN/Money) - Oil prices tumbled nearly $2 Tuesday to back where they were before Hurricane Katrina slammed into oil facilities and forced most production in the Gulf of Mexico to shut down last week.
Prices sank as Gulf Coast refineries shut by the storm looked ready to come back online, and a major pipeline resumed shipping gasoline and other refined products at full capacity to the Eastern Seaboard.
U.S. light sweet crude for October delivery sank $1.61 to settle at $65.96 a barrel, on the New York Mercantile Exchange -- a decline of 2.4 percent that took prices back below where they were before the storm hit.
The drop came after oil sank $1.90 Friday after the U.S. and nations overseas announced they were releasing oil and gasoline from strategic reserves to help cope with shortages. Brent closed lower in London Monday as well, while U.S. markets were closed for the Labor Day holiday.
Oil hit an all-time trading high of $70.85 last Tuesday as pictures from the hurricane-ravaged Gulf coast emerged.
"We are starting to see signs of recovery after Hurricane Katrina ... It looks like the worst is over," Phil Flynn, analyst at Alaron Trading, told Reuters.
The news agency reported that five of the eight storm-hit refineries on the Gulf coast have now relit their flares, indicating operations are about to get under way.
"It looks like some of them are coming back a lot quicker than some of us thought," Nauman Barakat, a trader at Refco in New York, told CNN/Money.
When Katrina slammed into the Gulf Coast last week it shut down nearly all U.S. offshore crude oil production and paralyzed more than 10 percent of refining capacity in the United States, the world's biggest energy consumer.
But the industry's desperate push to recover has begun to pay off as nearly half of the refineries fully or partially closed by the storm returned to service and offshore operators made strides to restore production.
Barakat said the International Energy Agency's (IEA) release of 2 million barrels of oil and other petroleum products a day for the next 30 days was also calming markets. The U.S. is also releasing oil from its Strategic Petroleum Reserve.
But Barakat noted that much of the IEA oil will be crude oil, which won't help ease shortages of gasoline and other refined fuels.
He said gasoline was difficult to obtain because Germany, which has the largest gasoline reserve of any IEA member, keeps its stockpile far from coastal ports.
In addition, even if gas was readily available, transporting it would be a problem as most fuel ships are already booked.
"I think once people realize where we are this market will turn around," he said.
Among gulf Coast refiners, Marathon Petroleum Company LLC's (Research) refinery in Garyville, Louisiana, began the restart process on Monday, the company said.
Valero Energy Corp.'s (Research) refinery in Norco, Louisiana, had its electrical power restored and expected to restart by mid-week, Valero said Monday.
Motiva Enterprises LLC's refinery in Convent, Louisiana, has restarted and is moving to full production. And Murphy Oil Corp.'s (Research) Meraux, Louisiana, refinery had lit its flare stacks but was contending with a leak of crude oil from a storage tank at the plant.
-- from staff and wire reports
________________________________________________
Gas prices finally come down. Click here.