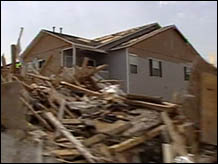 Mississippi attorney general plans to sue insurance companies to force them to pay for flood damage. CNN's Andy Serwer explains. (September 15)
Play video

NEW YORK (CNN/Money) - Mississippi Attorney General Jim Hood sued insurers in his state Thursday for taking advantage of Hurricane Katrina victims and not covering damage to homes caused by flooding in the aftermath of the storm.
Mississippi Farm Bureau Insurance, State Farm Fire and Casualty Co., Allstate Property and Casualty Co., United Services Automobile Association and Nationwide Mutual Insurance Co. were listed as defendants in the suit.
Hood's office is investigating charges that claims adjusters from these companies offered homeowners affected by the storm $3,000 in personal expense money in return for signing waivers agreeing their home's damage was from a flood and not from wind.
Flood insurance is not included in standard commercial or homeowners policies, while damage caused by wind typically is covered.
Nationwide said the suit's allegations were unfounded. "Our company is absolutely not asking policyholders to acknowledge damage is flood related in order to receive a check for living expenses," the company said in a statement.
"No such form or activity is sanctioned by Nationwide, nor does Nationwide own any company called Nationwide Flood Insurance Company, as noted in the legal action filed today," the statement added. The company also said it investigates each claim individually before making any coverage decision.
State Farm spokesperson Phil Supple said by challenging the validity of contracts in Mississippi, the suit threatens the foundation of the state's economy.
"The attorney general's action threatens to undermine the insurance industry's financial stability and its ability to respond not only to its obligations arising out of Katrina but also its ability to respond to other claim obligations in Mississippi and elsewhere around the country," he said.
The suit asks that certain provisions in policies offered by the insurance companies be declared "void and unenforceable." Those provisions exclude from coverage much of the property loss and damage caused by Hurricane Katrina.
The suit also seeks to prohibit insurers from using these provisions when adjusting property claims.
"The companies will try to work with the policyholders to resolve this issue," Bill Davis of the Insurance Information Institute, a trade group, told CNN.
"There may have to be engineering studies done to determine what caused the damage," he said.
With flood insurance largely unavailable in standard policies, homeowners who want that protection have to buy policies sold through the National Flood Insurance Program, which is administered by the Federal Emergency Management Agency.
Risk modeling firms have estimated that insurance companies may have to pay up to $60 billion for damage caused by Katrina.
-------------------
Click here for tips on sorting out your home insurance claim.
Click here for more about lawsuits in the wake of Katrina.