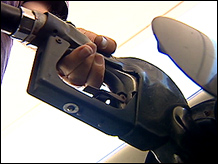 Hurricanes can mean higher gas prices, which can foreshadow a recession. CNN's Ali Velshi explains (September 23)
Play video

NEW YORK (CNN/Money) - Plastics and burgers. Construction and soda cans.
Hurricane Rita poses risks to the economy and the nation's businesses far beyond the oil refineries along the Texas Gulf Coast.
The storm was downgraded Friday to a category 3 from a more powerful category 4 hurricane and no longer appears poised to hit the cities of Galveston and Houston head on -- news that sent oil prices tumbling Friday afternoon.
But experts warned that the storm still posed a significant threat to the Texas Gulf Coast and the national economy, even if the worst-case scenarios appear to have faded as the storm approaches. (Click here for CNN.com's hurricane coverage).
Energy is still one of the areas most at risk, as about 27 percent of U.S. refining capacity lies between Corpus Christi, Texas, and Lake Charles, Louisiana, the stretch of the coast that could be hit by the storm and surging waters.
But hopes that the storm might come in weaker than it first appeared, and without a direct hit at the heart of refinery row, sent energy prices tumbling Friday. Gasoline futures also sank in active trading on the New York Mercantile Exchange.
While much of the area outside the eventual path of the hurricane eye could be back online relatively quickly, refineries could still take a hit due to how long it could take to restore lost power and get evacuated employees back on the job.
"The hurricane might not have to damage refineries to keep them off line," said Oppenheimer oil analyst Fadel Gheit.
In addition, the Gulf Coast ports handle much of the nation's oil imports, and offshore platforms are responsible for 29 percent of U.S. oil production and 19 percent of natural gas production.
Oil prices seen volatile
About half that production still hasn't been restored since Katrina hit, and further damage is possible from high seas. So while oil futures were showing some relief, analysts said prices would stay volatile.
As was seen after Katrina, that energy shock could be felt across the full range of businesses and consumers.
Two major airlines, No. 3 Delta Air Lines and No. 4 Northwest Airlines, were forced to file for bankruptcy after Katrina sent jet fuel prices soaring.
And while analysts said they don't necessarily expect other major airlines to file bankruptcy they couldn't rule it out, especially if jet fuel prices stay high longer they did after Katrina.
But it's not just transport companies that will see problems from higher energy costs.
No. 1 aluminum maker Alcoa (Research) warned third-quarter earnings would be as much as 39 percent below Wall Street estimates on lower aluminum prices and higher energy and raw-material costs -- news that sent its stock skidding Friday.
The hit to earnings
And further earnings warnings are likely in coming weeks as companies start to close their books for the third quarter and look ahead to fourth quarter costs and revenue.
"All these companies are getting hit by (natural) gas," analyst Charles Bradford of Bradford Research/Soleil Securities told Reuters, speaking about the metals industry. "The problem is we know what they are getting hit by but it's impossible to put a number on because you don't know (about long-term fuel contracts)."
Nor will it just be rising energy prices that are hitting consumers, either.
Food prices could also be affected depending upon the course that Rita takes after the storm comes ashore. East Texas counties still contribute about 10 percent of the nation's total beef production, and there were fears Friday that much of that livestock could be at risk, which sent cattle futures higher.
Prices for lumber and other construction materials also spiked after Katrina, and further price increases could come depending upon the amount of damage from Rita. That's due to a spike in demand as the areas are rebuilt and constraints on imports through Gulf ports.
"I think it's likely that prices will spike again and I think it's near certainty there will be some material shortages," said Ken Simonson, chief economist at the Associated General Contractors of America. "Our cement shortages will certainly get worse. We're heading for severe shortages of cement at least until those ports are fully operational."
A possible recession?
There could also be shortages of plastics and other key products in coming days and weeks as chemical plants in the Houston and Galveston area are forced to shut down along with oil refineries. Again, part of the problem is that there was already a loss of capacity of key chemicals due to damage from Katrina.
Credit Suisse First Boston, in a research note Thursday, estimated almost three-quarters of U.S. production capacity for ethylene, a key raw material used in plastics, was in the potential strike area of Rita.
Taken together, the expected slowing of the U.S. economy already expected from Katrina could build into an actual recession, said John Silvia, chief economist for Wachovia Securities.
"It's not the most likely outcome, but you have to think about it," he said, referring to a recession. "I think it is the compounding effect."
Silvia said part of the risk comes since the Federal Reserve may look at the increase government spending for recovery efforts in the region and decide it needs to keep raising rates to control inflation.
But those higher rates will come while energy prices are likely to stay above levels anticipated by both businesses and consumers just a few months ago.
"You could have dismissed it six months ago as a one-time hit," Silvia said, referring to an energy price spike.
"But I don't think a prudent business or household manager can dismiss these energy prices today. We'll have to see what impact this all has on spending, employment plans and the rest."