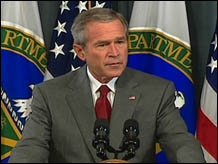 President Bush says his administration is willing to tap oil reserves to recover from Hurricanes Rita and Katrina. (September 26)
Play video

NEW YORK (CNN/Money) - Could the recent spike in oil prices have created a bubble that's about to burst?
With Hurricane Rita causing less damage than originally feared to the oil industry and oil prices treading water Monday, some industry analysts said we may be about to watch a steady, and significant, drop in energy prices.
"Price declines could be slow this week, maybe with a bubble burst at some point in the future," said analyst Peter Beutel, president of Cameron Hanover. "It does appear we've turned the corner here in this market. I don't think we'll see prices at these levels again anytime in the next five years."
Oil prices sank early Monday as traders reacted to reports that damage to the industry's facilities was limited, but turned higher as the market more fully assessed expected disruptions from Rita.
But prices are still well below levels reached last week when Rita was bearing down on the Houston-Galveston area, and Beutel and some other analysts were worried about a new price spike pushing gasoline to $5 a gallon.
Crude oil traded above $68 last Wednesday, about two days before the storm made landfall, and not far from the trading high above $70 after Katrina hit the Gulf Coast last month.
But before you start cheering Beutel's prediction, understand that part of his forecast is based on the belief that oil is high enough now to spark a global recession, which will significantly cut demand. He also believes that recent oil price records have spurred plans to increase global oil production, which he sees feeding the decline in oil prices.
Beutel sees oil prices falling all the way to the $25 to $35 a barrel range in late 2006 or 2007. Most other analysts aren't willing to follow that forecast, although some agree there could be a pullback in prices, even without a recession, if consumers start to have some breaks go their way.
"I think if the rest of the hurricane season doesn't cause disruptions, and global supplies stay as they are, we should see prices pulling back into in the low to mid-$50's, without a recession," said Sheraz Mian, oil analyst for Zacks Investment Research. "We could be in the high $40's if it's a warm winter."
Some see no bubble
But some analysts don't see any significant fall in the price of oil in the foreseeable future.
They say that the extent of damage to oil platforms and refineries from Hurricane Rita may well be greater than initial optimistic estimates suggest and that global demand is strong enough, and global supplies tight enough, to keep prices high.
"I would say we'll probably see $70 (a barrel) again before we see $50 or $55 even," said Oppenheimer & Co. oil analyst Fadel Gheit. "When the dust settles, we'll see that while Rita did not match Katrina in terms of impact, it significantly exceeded what's been reported."
Oil economist A. F. Alhajji, professor at Ohio Northern University, agreed that there's not much of a bubble now, noting strong global demand will keep prices high without a recession cutting sharply into demand.
"Inventories, which include commercial stocks and strategic stocks, are going to be at their lowest levels in history very soon," he predicted. "OPEC is selling the last bit of oil they can sell. We have no choice but to see higher prices sustained for a while."
And more oil shocks could lie ahead as the damage from both Katrina and Rita become better known, Alhajji said. He pointed to a year ago, when prices surged to what were then record highs about a month after Hurricane Ivan hit the Gulf of Mexico as production recovered more slowly than had been expected.
He worries what will happen when oil companies miss targets to resume normal operations at oil platforms or refineries affected by the most recent storms.
"Those delays are what will cause the increases," he said.
Gasoline prices expected to fall
But Alhajji does see some good news for consumers, as he believes that gas prices are about 30 cents a gallon above where they would be in relation to oil prices due to refinery disruptions. And he believes that rising imports are serving to close that gap, so that there could be some more relief at the pump even if oil prices edge higher.
"Unless we have another hurricane, it may be that gasoline prices have no where to go but down," said Alhajji.
There are seven refineries near the Texas-Louisiana border that took the full brunt of Hurricane Rita, and there was still standing water in and around many of those facilities Monday.
With about 1.7 million barrels of daily capacity, those plants refine about 10 percent of the nation's oil, or about twice as much capacity as the four refineries still off line after Hurricane Katrina.
That kind of disruption could normally drive oil prices higher, but damage was seen as less than what might have been if Rita had hit the Galveston-Houston area, home to 2.3 million barrels a day of refining capacity.
Gheit said he believes the oil industry is consciously trying to put the best face possible on the damage from Rita in a bid to keep gas prices in check and reduce political pressure that can come with high gasoline prices.
"There have been serious discussions by politicians from both parties about pushing for windfall profit tax," said Gheit. "That's what has the industry terrified."
For more news on this year's oil crunch, click here.