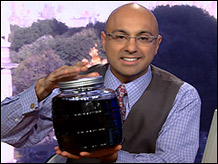 CNN's Ali Velshi explains how the rising cost of energy will affect you this winter. (October 2)
Play video

NEW YORK (CNN/Money) - The Department of Energy unveiled Monday a national campaign urging consumers to use energy more efficiently.
The "Easy Ways to Save Energy" campaign is part of a strategy designed to improve energy efficiency and conservation amid the expectation of rising winter costs, the Department of Energy said in a statement.
"As a result of tight oil and gas markets, and the damage done by Hurricanes Katrina and Rita, it's likely that consumers will see an increase in their heating bills this winter," Energy Secretary Sam Bodman said in remarks made to the National Press Club in Washington.
The energy saving campaign provides consumers, businesses and federal agencies with energy-saving ideas in the form of an "Energy $avers Guide" that will be distributed to consumers across the country, as well as radio and print ads that promote more efficient energy use.
The radio public service announcements, which the Department of Energy jointly unveiled with the Alliance to Save Energy, include tips, such as installing insulation and using a programmable thermostat to lower winter heating bills, as well as advice on how to get the most out of every gallon of gas.
The print ads featuring the Energy Hog, a character who informs consumers about the hazards of wasting energy, will appear in newspapers, magazines and billboards across the country.
Bodman said the Energy Department also will send energy efficiency experts to federal government facilities nationwide to identify ways to save energy.
Bodman and Department of Energy officials also plan to travel across the country over the next several months to discuss energy and money-saving tips for the winter.
The Alliance to Save Energy, a non-profit that supports energy efficiency and promotes energy-efficiency policies, said it is compiling information regarding energy-efficiency tax credits that will be available starting Jan. 1, 2006 and that it will soon have this information available on its Web site (www.ase.org).
------------------
What does Bush have to say about heating bills? Click here.