Now the time to get a good deal, but watch the neighbors and keep your parents in mind.
NEW YORK (CNN) - Has the new year prompted you to do some home remodeling? In today's top 5 Tips we're going to tell you what you'll need to know before you even take out that measuring tape.
1) Do it now
If you're looking to remodel this year, now is a good time. You may even be able to get your contractor on the phone...on the first try!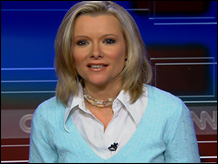 CNN's Gerri Willis shares five tips on what you should know before renovating your home. (January 13)
Play video

That's because the remodeling market is slowing down according to Kermit Baker of Harvard University's Joint Center for Housing Studies.
Contractors may not be as busy these days because homeowners are concerned about rising short term interest rates and slowing home appreciation.
Even the Labor Department statistics indicate that contractors are less busy than they were a year ago.
That's good news to homeowners who in the past may have had to wait up 12 months or longer for services.
2) Think trends, not fads
OK, so we all know that if you want to get the most bang for your revo buck, you should look to the kitchen and the bathroom.
Remodeling these rooms can give you a 98 to 100% return on your money.
Try to avoid the hot trends that tend to come and go like trash compactors or avocado green appliances.
"It's hard to predict when or how market remodeling trends change," says Baker. "Trust your instincts and you'll be able to enjoy all the changes you make."
3) Scope out the 'hood
When you remodel, you want to get an idea of what your neighbors are doing.
You may love the fish pond and the menagerie or the wrought iron fence, but you generally don't want your house to look out of place.
Bankrate estimates that no matter what you do to increase the value of your home, you shouldn't plan on pushing your home's value beyond 25 percent of its current selling price; even in the best market, you probably won't get it.
On the other hand, if you're the only house on the block without a deck or a swimming pool, you may want to consider adding features that make your home more attractive to buyers.
4) Contractor checklist
When it does come down to hiring a contractor, there are a few rules you'll want to keep in mind.
First of all you'll probably be happier if you go with a contractor who was recommended to you.
Consumer Reports suggests that when it comes to jobs like plumbing or other professional services, you should hire them yourself. Don't let a general contractor do the hiring. You'll save time and money.
Make sure you get at least three bids to gauge the going rate, but don't always jump at the lowest rate. Consumer Reports warns that people who did generally got poorer work.
Of course you know to ask for proper licensing and insurance. Certification from the National Association of the Remodeling Industry is a plus.
And finally, it comes down to dollars. Get estimates. You should have a piece of paper that lists the products, material, labor costs and a time table.
5) Silver: The new granite?
So what kind of trends will we see going forward? All you have to do is look to your parents for the answer.
An aging demographic is going to drive more demand for renovations that help boomers get around. That means wider doorways and hallways, bathroom handrails and wheelchair accessibility.
If you're looking to remodel for your parents or you just want to find out what they'll need in their own home, there are resources.
Check out the National Association of Home Builders Web site at www.nahb.org and search under CAPS. This will direct you to Certified Aging-in Place Specialists. These are remodeling professionals who have taken certification classes for senior remodeling needs.
"This is a generation that has wealth and longevity," says Baker. "And most aging people don't want to move."
Also check out www.homemods.org, which has information on modifying homes for the elderly.
_______________________________
Forget market exuberance, the best way to make money is through time honored traditions. Click here
Don't get suckered on exercise gear. Click here