Latest reading of housing starts, permits shows more of a slowdown than expected as builders continue pull back in once hot sector of economy.
NEW YORK (CNNMoney.com) -- The closely watched home building market showed more signs of trouble Wednesday as a report showed builders slowed their pace of housing starts and building permits fell more than expected in July.
Housing starts came in at an annual pace of 1.795 million, according to a Census Bureau report, down from the 1.84 rate in June, which was revised lower. It is also less than the forecast of 1.81 million of economists surveyed by Briefing.com.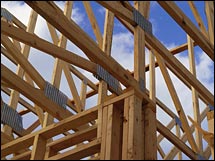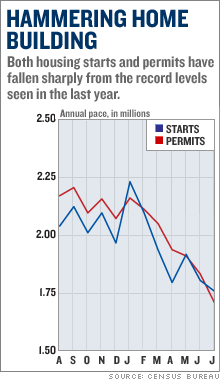 Building permits, seen as a measure of builder confidence, fell to an annual rate of 1.747 million from a 1.869 million pace. Economists had forecast a decline to 1.84 million.
The declines are even more substantial from year-earlier levels, with housing starts down 13 percent from a year earlier and permits off nearly 21 percent. Permits hit a record high in September 2005, while starts reached a seasonally-adjusted record in January of this year.
Hit to economy
The slowdown is important because home building has become an important component of the U.S. economy. In the second quarter of 2005, investment in residences added 1.11 percentage points to the gross domestic product, the broad measure of the nation's economic activity. But in the second quarter it subtracted an estimated 0.4 percentage points.
David Seiders, chief economist with the National Association of Home Builders (NAHB) estimates it will subtract even more from economic growth in the third quarter.
"With the start numbers now in place for July, there's no doubt the contraction is going to be larger," he said.
In addition, the Labor Department estimates that more than 3 million people work directly in residential construction, and that the sector was responsible for about 10 percent of the nation's overall gain in employment in all of 2005.
But the sector has already trimmed nearly 25,000 jobs since January, according to Labor Department figures, and the slower housing starts and permits suggest even more slowing is ahead.
That slower outlook is also confirmed by a survey of members by the NAHB released Tuesday that showed builder optimism sank for a seventh consecutive month in August to its lowest level in 15 years.
"The weakening process now engulfs all of the regions," said Seiders about his group's confidence survey. "The West was holding together quite well, but it too has come down rapidly."
And a number of publicly-traded home building firms have cut their forecasts for new homes, revenue and earnings in recent weeks.
Builder Toll Brothers (Charts) said the current slump in residential construction is unlike any it has seen in 40 years, with a glut of new homes on the market causing the slowdown rather than the typical reasons for a slump - a rise in interest rates or downturn in employment.
A separate report from the Census Bureau showed that in June the supply of homes completed and available for sale stood at 132,000, a record level, and 28 percent above year-earlier levels.
But Seiders said while the slowdown in housing starts and permits further hit builders' results, it would be good news for the industry if it helps to cut into the supply of homes available for sale.
"I think we've been expecting to see this kind of trend develop," said Seiders about the cutback in new building. "We're gratified that it is. The builders have been talking about problems on the demand side. We did over produce and over build and there needs to be a movement away from those frenzied highs."
The slowdown in real estate has economic implications beyond builders' finances and payrolls.
Home price appreciation has been a key driver in household wealth, and the cooling real estate market could also cut into consumer spending, as home owners are no longer able to tap into their home equity to finance their spending.
Wednesday's housing starts report is just the latest sign that the white hot real estate market of 2005 may already be in a recession.
On Tuesday, the National Association of Realtors reported that more than one real estate market out of three has seen prices fall from highs of the last year. That trade group had earlier said that housing has switched from a "seller's market" to a "buyer's market."
"Next week's new and existing home sales releases will likely show further weakness in home sales, as the housing market slows to a more sustainable pace," said Phillip Neuhart, economist for Wachovia. "Thanks to inventory concerns, we expect housing starts to actually under-perform home sales as builders attempt to off-load some excess inventory."
Home prices in a deep freeze.