Latest reading on new home market shows surprise increase in housing starts, although permits fall more than forecasts.
NEW YORK (CNNMoney.com) -- Home building may be ready to shake off its 2006 slump, as housing starts posted the biggest jump since January, according to a government report Wednesday.
The report also showed that building permits, seen as a sign of builder confidence, fell more than expected.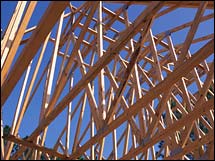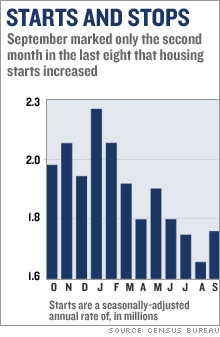 But the housing starts number was seen by some as perhaps a signal that home building has hit bottom and is ready for a recovery. At the very least, the market appeared more resilient than many experts had assumed.
"The worst may be over," said Rich Yamarone, director of economic research at Argus Research. "No, it's not blistering. But we're not in the housing boom anymore. When you put it in this historical perspective, you can't call this anything other than strong."
The number of new projects that home builders started rose to an annual pace of 1.77 million in September, according to the Census Bureau, from the 1.67 million pace in August. The 6 percent increase in September contrasts with a decline in starts in six of the previous seven months.
Economists surveyed by Briefing.com had forecast starts would again slow in September to a 1.65 million rate.
While the 1.77 million rate is well below all the monthly readings from the second half of 2003 through the first half of this year, it's still a solid number. Only one month in the 10-year period from 1992 through 2001 had more starts.
Still, the pace of building permits fell, coming in at a rate of 1.62 million, down from 1.73 million in August. Economists were looking for this sign of builder confidence in the market to barely edge lower.
The disconnect between the two numbers surprised David Seiders, chief economist with the National Association of Home Builders (NAHB), who said builders seemed to be working through a backlog of home permits they held for properties where they had not started construction.
Seiders said that a pick-up in building is not necessarily a positive for the market, which has seen the inventory of completed but unsold homes increase to record levels, pushing down prices and forcing builders to offer incentives to sell homes.
"If both permits and starts were up I'd be scared because I think there are still inventory issues that we need to work through," he said. "I hope the bounce in starts is a temporary phenomenon. I think it's inevitable that starts will be down in October."
Most of the nation's leading home builders, including Lennar (Charts), Toll Brothers (Charts), Centex (Charts), Pulte Homes (Charts), D.R. Horton (Charts), KB Home (Charts)and Hovnanian Enterprises (Charts), have seen sales and profits fall, with many citing a glut of homes on the markets as reasons to scale back their own sales targets going forward.
But survey of builders' confidence by the NAHB released Tuesday showed its first modest uptick in a year in October, even though builders still had an overwhelmingly negative view of the market.
Home builders survey: Market may have bottomed out